we're a close knit community
There is something about our community that stands out, and we love it. To us, being an involved and engaged resident means taking an active role in making Four Seasons the best in the area. If you have questions and would like information, just send an e-mail to the address below or check out our newsletter - you can download it, just click on the link below.
2017 Wine and Cheese Welcome Party for new residents
Four Seasons is....
....a condominium community with a homeonwers association and elected Board of Trustees.
....right-sized to ensure residents' concerns and property needs can be readily addressed.
....surrounded by local colleges, shopping venues, sports, and entertainment facilities.
....managed by a property management company who assists the Board.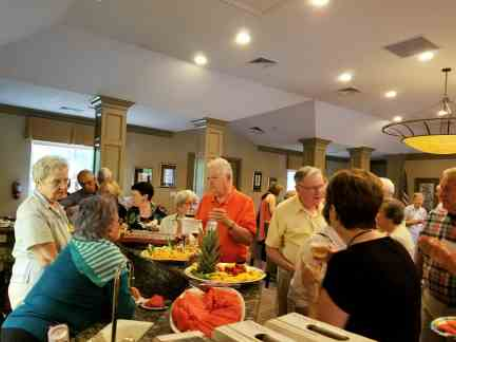 Our community
Four Seasons at Saucon Valley is an acitve 55+ condominium community consisting of 158 duplex and quadplex homes with attached two-car garages.
You can learn more about the home styles and sales on the "Services" page of our site.
Please return again soon as our website is still under development and updates about Four Seasons will be available. If you have a question, just go to our "Contact Us" page and fill out the form. You can also learn more by downloading our newsletter, the Four Seasons News.
2018 Spring Volunteer Work Day
Fall is in full swing now and the temps are going down. The holiday season is not too far off now and neither is winter, but we're ready for both and you should be, too.
Why not come by and take a look at Four Seasons - you can put away that snow shovel once and for all!